Game is loading
Please wait, process of requesting can take some time!
Currently 32 War Games found for you
Saga of Kraigen: Ambush at the Dragon Pass
War
This is one rough Tournament, are you the mighty warrior that will win the ultimate prize? Let the battle begin!...
Blitz Tactics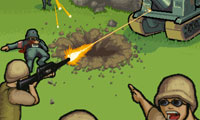 Action
Can you seize each one of the enemies' bases without getting into a battle with their troops?...
Palisade Guardian: Revolution
Action
Suit up, soldier: the revolution is here!...
Super Space Army
Shooting
You're all alone, it's dark and there's a million monsters trying to eat you. No big deal, right?...
Soldier Assault
Loot Heroes
Action
Things are getting pretty hot down in hell…can you keep your cool?...
Pixi Tower Defense
Tower Defense
Nothing will stop the march of the monsters…except your heavy machinery, hopefully....
Zombroad
Shooting
Hoards of headless zombies are running amok. How many of them can you take down before you run out of ammo?...
Final Siege
Action
Zombies are attacking your city: you must defend at all costs!...
Pocket Ninja
Adventure
There's only one thing worse than a ninja attack and that's a ninja horde attack....
World's Guard 2
Action
The tower-defense danger and excitement continues in this strange land filled with bloodthirsty beasts....
Peacekeeper
Action
Nothing keeps the peace like a plasma rifle....
Bomb It 6
Skill
Bomb It 6 is coming soon! In the meantime, why not practice your skills in Bomb It 5?...
Mexican Zombie Defense
Action
These zombies aren't after fajitas…unless they're brain flavored....
Bomb It 4
Skill
Blow away the competition!...
Urban Assassin
Skill
Go ahead, make my day....
Heliwars
Action
Seek and destroy......
William Tell
Action
How 'bout them apples?...
Clown Carnage
Action
Scared of clowns? Take your revenge....
Zombie TD: Reborn
Action
Wipe out this army of walking dead, before it's too late....
Zombie Tower Defense: Reborn
Action
Annihilate these ugly undead assassins with your trusty high-tech towers....
Fortress Magnus
Action
Death to all rust buckets!...
Meerkat Mission
Action
This mob of meerkats has a mind for mayhem!...
Elf Archer
Action
Join Saeel's quest to rescue the elf princess from hordes of hideous orcs....
It's Dark in Hell
Skill
Who needs a nightlight?...
Ninja Painter
Adventure
Trade in your nunchucks for a roller and a bucket of paint......
Mix a Monster
Girls
Gasp-worthy ghouls are guaranteed......
Zombies Runaway!
Adventure
Undo the undead with this pint-sized powerhouse!...
Snow Princess Make-Up
Action
If looks could chill......
Alien Attack
Skill
What do you do when the lights go out on a hijacked ship...?...
Bomb It 3
Action
Bomb and blast your enemies to smithereens!...
Bomb It
Action
Blow up your opponents by placing bombs. A Bomberman game with random levels!...