Game is loading
Please wait, process of requesting can take some time!
Currently 22 Tower-Defense Games found for you
Crusader Defence: Level Pack 2
Adventure
Return to a world of adventure and excitement as you prepare for another series of exciting battles. Assemble your units and defend the city from your enemies in this tower defense game. ...
Zombie Night
Tower Defense
Hoards of the undead are heading your way. Take them out, one by one, and earn lots of money to buy awesome upgrades for your weapons. How long will you survive in this zombie game?...
Crusader Defense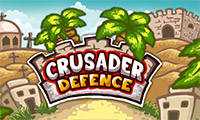 Skill
The enemy is about to attack. Get your archers and knights in position and fast!...
Zombie Return
Tower Defense
When zombies strike back there's no telling what kind of mayhem you'll be up against....
Elven Defence
Skill
Defend the castle against hordes of orcs and monsters in this mobile and desktop compatible game!...
Robots Can't Jump
Adventure
It's true. Robots aren't very bouncy. But they are ferocious. Make 'em explode and fast!...
Napoleon vs Zombies
Tower Defense
Can you battle the Zombies as part of Napoleon's army? Use all force required against these undead!...
Redneck vs Zombies
Tower Defense
All these Zombie animals, we need to protect our farm! Time to grab our shotguns!...
Flower Guardian
Action
Only you can defend the Flower Kingdom from an onslaught of mean monsters....
Pixi Tower Defense
Tower Defense
Nothing will stop the march of the monsters…except your heavy machinery, hopefully....
Final Siege
Action
Zombies are attacking your city: you must defend at all costs!...
Hands Off
Action
Having a superstar for a boyfriend isn't all fun and games. Hurl some cake at his crazy fans....
Fairy Defense
Tower Defense
Uh-oh! Fairy Land is under attack. Can you stop all of these icky invaders?...
World's Guard 2
Action
The tower-defense danger and excitement continues in this strange land filled with bloodthirsty beasts....
William Tell
Action
How 'bout them apples?...
Zombie TD: Reborn
Action
Wipe out this army of walking dead, before it's too late....
Zombie Tower Defense: Reborn
Action
Annihilate these ugly undead assassins with your trusty high-tech towers....
Fortress Magnus
Action
Death to all rust buckets!...
Meerkat Mission
Action
This mob of meerkats has a mind for mayhem!...
Paper Defense
Action
The best defense is a good offense......
Snow Princess Make-Up
Action
If looks could chill......
Epic Defender
Skill
Eradicate the enemy to become king of the hill!...