Game is loading
Please wait, process of requesting can take some time!
Currently 60 Princess Games found for you
Super Sales
Princess
Martha and Lori are two store clerks and they're getting ready for the busiest shopping day of the year. Can you help them prepare for the huge amount of customers that will be invading their boutiques in just a little...
Ninja Caver
Adventure
The ninja bomber is back and once again is trap on a cave! help him escape by dashing, jumping and climbing your way out, but remember to always catch the stars for extra points! ...
Avie Pocket: Birthday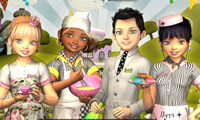 Action
Avie's ready for the best birthday ever! Enter the bakery for that perfect birthday cake with juicy flavors and get Avie dressed up to be the centre of attention. Participate in various activities to celebrate Avie...
Save the Princess: Love Triangle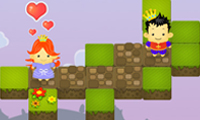 Snow White Kiss
Action
Only Prince Charming can wake up the princess but the dastardly witch won't make it easy......
The Enchanted Way
Action
A beautiful princess is waiting for this brave knight. Help him clear a path to her tower. ...
Hidden Castle
Hidden Objects
The castle is such a mess! Can you find all the items before the time runs out?...
Popstar Girl Facial
Makeover
Popstars get blemishes too, so get your facial kit ready and turn this spotlet into a starlet....
French Victorian Dress-Up Game
Dress Up
Get ready to design some new looks that are a blast from the past. ...
Princess Quiz
Girls
What type of princess best reflects your personality? Take this cute quiz to find out....
The Ugly Princess
Makeover
Help this royal misfit with a makeover so she can become a very pretty princess....
Asian Beauty Queen
Dress Up
This girl needs some help picking out a cool kimono. Are you available?...
Princess Tutu
Girls
Give this former ugly duckling the beautiful ballerina costume she deserves....
Princess in Wonderland
Princess
What should the imaginary Princess of Wonderland look like? ...
Princess Kitten
Animal
This cute kitty wants a real royal makeover…and it has to be purrfect....
Elements Princess Quiz
Girls
Discover which element best reflects the royal beauty within you....
Beautiful Princess Makeover
Princess
She's running very late...but maybe you can help her look great?...
Full Moon Wo Sagashite
Action
Mitsuki's getting ready for her next big concert—can you help her look awesome for her fans?...
Princess Quiz
Girls
Ever wanted to know what type of princess you are? Here's your chance to find out....
Blocks in Space
Action
Why launch rockets when you can launch blocks? It's 10,000 times more fun!...
Princess Bubbles: Rescue Prince
Action
Help her royal majesty bubble-blast a trail back to her beloved prince. ...
Fairy Garden Decoration
Action
It's moving day in the magical world of fairies. ...
Pony Cleaning
Girls
This pony got caught out in the rain, and now she's all muddy. Nothing a little soap can't fix!...
Magical Creatures
Action
A flock of magical creatures are looking for a new home. Can you collect them all?...
Unicorn Miracle
Action
Love isn't all rainbows and unicorns…or is it?...
Foxy Dress Up
Action
Foxy the cat has a reputation for being a pretty kitty—is her spring wardrobe the best yet?...
Beautiful Fairy
Action
Wings? Check. Make-up? Check. Fashion? Uh oh. ...
Princess Makeover
Action
Enter a magical world of beauty and fashion, where everyone can be a princess....
Sleeping Beauty
Girls
What's the best way to wake up a sleeping princess? With a kiss, of course!...
Princess to the Rescue
Adventure
Because why should heroes have all the fun?...
Kiss the Frog
Girls
The power of true love knows no bounds. It can work wonders!...
Snowflakes Dress Up
Action
Fashion is tops, even all the way up at the North Pole....
Angel Cat Dress Up
Action
Because even kitties like to put life on "paws" to create a "purrfect" look....
Rainbow Unicorn
Action
Harness all the colors of the rainbow to make this unicorn glow!...
Sofia's Valentine Makeover
Action
Sofia's in the mood for love: so bring on a cute, cupid-inspired costume for Valentine's Day!...
Fire Princess Dressup
Action
This girl is on fire...and she needs an outfit to match....
Perfect Princess Dress Up
Action
The dressing room is all yours: what makes a perfect princess?...
Pretty Princess
Girls
Preen this pretty princess 'til she looks like a queen....
Mermaid Princess
Action
Make some mischief under the sea!...
Knightmare Tower
Action
With so many damsels in distress, we need a knight in very shiny armor....
Princess Kiss
Action
Hold on to your hat—it's time to sneak a smooch!...
Pink Princess Dress Up
Girls
This pretty princess knows her colors: pastel pink, bright magenta, and baby blue....
Princess Room Decoration
Girls
Pretty princesses love pretty rooms, so put you decorating skills into practice....
Beauty Potion
Girls
Fire burn, cauldron bubble—turn hag to princess on the double!...
Princess Saver
Skill
This funky fairytale has an explosive ending......
Little Romeo & Juliet
Seasonal
Find a happy ending for this adorable pair of star-crossed lovers....
Models of the World: Jamaica
Action
All the way from Montego Bay...style this stunner for international stardom....
History Dress Up: Shakespeare
Action
What light through yonder window breaks?...
Magical Unicorn Chase
Action
This fairy has one thing on her mind: making friends with that fantastic flying unicorn!...
Cute Tooth Fairy
Action
This petite little pixie's on a magical mission for your missing molars!...
Princess Carriage Decoration
Action
Who needs a fairy godmother when you can arrange your own magical transportation to the ball?...
Fashion Editor: October
Girls
Have a haute-couture Halloween!...
Soap Bubbles Princess
Action
Rub-a-dub-dub, there's a diva in the tub!...
Asian Beauty Make-Up
Action
Pounds of printed silk and delicate jade jewelry—put your own spin on these traditional essentials!...
Milly Elf Dress Up
Action
Whip up a whimsical look for this playful pixie's party!...
History Dress Up: Rome
Action
Step back in time and slip into something more...imperial....
Shopaholic Hawaii
Girls
Browse these bodacious beach-side boutiques! You'll be sayin' "Aloha" in no time!...
Pink Bride Dress Up
Girls
There can NEVER be too much pink....
Sun Princess Make-Up
Action
Make this ray of sunshine a stylish sight!...
Cute Jump-Rope Girl Dress Up
Action
Rope in a sassy new style!...