Game is loading
Please wait, process of requesting can take some time!
Currently 47 Halloween Games found for you
Witch Element is Yours
Girls
Swipe all the magical elements to unlock the stardust. But hurry, you'll have to be quick!...
So Sakura: Halloween
Girls
Because every girl needs a fabulous look when it comes to Halloween......
Betsy's Crafts: Halloween Candle Jar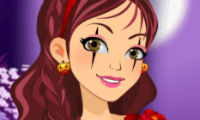 Action
Join Betsy in her studio and design a creepily cute decoration that's perfect for Halloween....
Halloween Friends
Action
These three teens are looking for some perfect Halloween costumes. What should they wear?...
Boom Go The Zombies
Action
Eh, boy. Another zombie invasion is under way. Let's grab some grenades and get to work… ...
Loot Heroes
Action
Things are getting pretty hot down in hell…can you keep your cool?...
Surprising Halloween
Halloween
These two friends want to look awesome for Trick-or-Treating this year. Can you help?...
Halloween Couple Dress Up
Dress Up
Should this Halloween couple have matching costumes? It's your choice—work your magic!...
Halloween Kitten Dress Up
Animal
This cute kitty is looking for a fang-tastic Halloween costume. Any ideas?...
Graveyard Cake: Sara's Cooking Class
Cooking
This graveyard cake is frighteningly tasty, and it's perfect for Halloween!...
Halloween House Decoration
Creation
This spooky cottage could use some sprucing up to make it perfectly boo-tiful....
Witchy Cutie
Seasonal
This witchy girl wants to deliver the perfect Halloween greeting. Could you help her with a makeover first?...
Blocks Happy Halloween
Seasonal
Join the Blocks gang as they go trick-or-treating. How much candy will they get?...
Creepy Quesadillas: Sara's Cooking Class
Cooking
Join Sara in her kitchen while she prepares a Halloween dish that's spooky and scrumptious....
Vampire Show
Adventure
These two gorgeous ghouls love to smooch, but a pesky bat keeps ruining the mood! Can you help?...
Fantasy Store Decoration
Fun
This enchanted shop needs to be decorated for Halloween. Do you have the magic touch?...
Avie: Halloween Style
Make Up
Avie's best friend could use a hand in his lab but what should she wear? It's all up to you....
Pumpkin Decoration
Creation
Carve the perfect jack-o-lantern for Halloween......
Cute Witchy Dress-Up
Halloween
This Halloween dress-up game will forever change how you think about a witch's wardrobe......
Maple Salmon: Sara's Cooking Class
Cooking
What's Sara working on this time? A delicious and nutritious treat from the sea!...
Rolling Ghosts
Puzzle
Ghosts aren't scary once you bring them back to life!...
Magical Academy
Action
If you had magical powers, how would you use them? For cute costumes, of course!...
Sara's Cooking Class: Spooky Snacks
Girls
Sara's ready to freak you out with these gory goodies!...
Emily & the Magic Maze
Seasonal
Emily's trick-or-treating becomes a scary labyrinth of twists and turns......
Sara's Cooking Class: Halloween Cupcakes
Girls
No real eyeballs or spiders are used in Sara's spooky cupcake recipe...right?...
Vampire Queen Make-Up
Action
Even evil monsters need some sparkly outfits—vampire queens can't look dowdy, you know....
Yummy-Yummy Monster Shooter
Skill
To the mosh pit, monsters!...
Autumn Shopping Dress Up
Action
Shopping is a serious business in any season....
Trendy Halloween Costumes
Seasonal
Mastermind a mesmerizing Halloween disguise......
Mr. Pumpkin & the Halloween Night
Seasonal
The ghouls are out and about—if you know where to look…...
Halloween Decoration
Seasonal
Set the scene for Jinx and Minx's supernatural costume party!...
Halloween Table Decoration
Seasonal
So spooky...and yummy, too....
Halloween Make-Up
Seasonal
Only a ghoulish get-up will do......
Halloween Cake Shop
Seasonal
Sink your fangs into a frighteningly frosted delight!...
Getting Ready for Halloween Makeover
Seasonal
Help this spooky siren get all gussied up for the creepiest night of the year!...
Skullhunter
Seasonal
Reduce these skeletons to a pile of bones!...
Bella the Vampire Makeover
Seasonal
After sporting the same style for hundreds of years, this bewitching bloodsucker needs a change....
Zombie TD: Reborn
Action
Wipe out this army of walking dead, before it's too late....
Cover Model Dress Up: October
Girls
Halloween havoc is trendy on the October catwalk!...
Halloween Witch Dress Up
Girls
This witch loves Halloween bling!...
Cute Pumpkin Head
Girls
Jazz up a jack-o-lantern and jump into Halloween festivities!...
Bubble Hit: Halloween
Skill
Burst these bubbles with a haunting pop!...
Zombie Dress Up
Girls
The living dead love to dress their best on Halloween!...
The Halloween Quiz
Girls
We all have a spooky side......
Sara's Cooking Class: Pumpkin Pie
Girls
Bake a perfect pumpkin pie from scratch for your next party!...
Devilish Trick
Puzzle
Her tricky spells can't pull the magic over your eyes......
BeZombied
Puzzle
Zombies waves are coming at you! Take them out piece by piece......